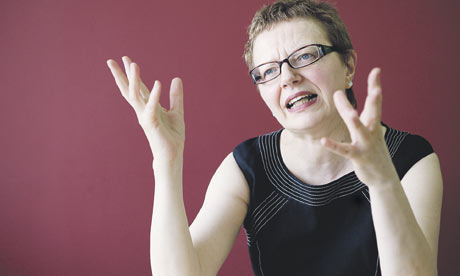 You've probably never heard of Cynthia Bower, the £200,000 per year Chief Executive of the Care Quality Commission (CQC).
The CQC is the Yet Another Quango (YAQ) responsible for ensuring high standards in health and social care. While the public might expect a doctor to head up the watchdog responsible for maintaining hospital standards, it is instead, as is depressingly nearly always the case, a politically-motivated cropped-haired single-parent social worker leading the YAQ. Doctors and nurses are simply too busy, and too committed to their useful jobs and to the welfare of their patients to become bureaucrats.
The Guardian identified Bower as one of their own:
She came under the radicalising influence of feminist politics at university in the mid-1970s. "I became a social worker because that was the only label I could give to what I wanted to do."
What Bower seems to have wanted to do is 'nothing much useful at all'. So, this still reads like a typical New Labour luvvie gets a ridiculous salary at a quango story. But it isn't. Cynthia Bower was, from July 2006 until July 2008, Chief Executive of NHS West Midlands. She was responsible for Stafford Hospital where hundreds, perhaps thousands, of its patients died inhumane and needless deaths in disgusting conditions. Patient safety doesn't seem to have been of much interest to Cynthia Bower until a £200,000 remuneration package was attached. West Midlands NHS had all the mortality data for Stafford Hospital, but was either too disinterested or too incompetent to undertake any useful analysis. Her thick-skinned tenure as the £200,000 per year head of the Care Quality Commission is an on-going insult to the families of the hundreds of victims.
Labour, quite disgracefully, resisted a public inquiry into events at Stafford Hospital. While patients were losing their lives in appalling and disgusting circumstances, Labour had awarded the Mid Staffordshire Trust Foundation status.  And,who was Cynthia Bower's predecessor as the head of West Midlands Strategic Health Authority, while standards were declining and patients suffering and dying?  David Nicholson.  Sir David Nicholson is the current £278,000 per year Chief Executive of the NHS.
Both Bower and Nicholson should bow their heads in shame and resign. Rather depressingly, they only appear to be interested in bowing their heads at the trough of excessive and undeserved public remuneration, as both seem to believe they should be paid more than the Prime Minister.
Their victims in the West Midlands must be turning in their graves.
Let's at least congratulate the Coalition for instigating the public inquiry which opens today, and hope that it will provide Bower and Nicholson with no place to hide. cantankerous believes that it is those who founded and drove the grass-roots campaign, Cure the NHS, which exposed the squalor at Stafford Hospital, who deserve to be honoured rather than bureaucrats who worried about foundation status, targets, promotions and ingratiating themselves with their political masters, while families needlessly buried their loved ones. How about a knighthood for Julie Bailey, who, unpaid and greaving for her mother, Bella, established the campaign which has done so much to expose, and let us hope fix, what went wrong?